Posted: Thursday, December 6, 2012 11:38 AM
---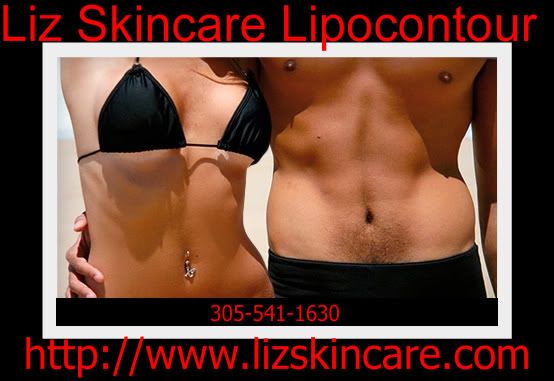 Non Invasive Lipocontour slimming localized fat reduction weight loss Treatment.
Contours, shapes and slims the body by reducing cellulite and circumference in as few as 5 - 10 treatments or sessions. FDA-approved, completely non-invasive treatment for cellulite reduction and body contouring.
Ultrasonic cavitation is a method for treating obesity or fat deposits or for delivering cosmetic or other bodily therapy
Lipo Contour reduces cellulite and lifts and shapes the stomach, hips, thighs and buttocks.
Cottage cheese thighs. Flab around your waist, stomach, hips and thighs.
have a smoother, slimmer, sleeker appearance GREAT FOR BOTH MEN & WOMEN Now you
to decrease cellulite and reduce and reshape the stomach, hips, thighs and buttocks. The Lipocontour has been
We are dedicated to your total satisfaction.
Liz Skincare
1756 SW 8th ST Suite 207
Miami, FL 33135-3544
General Services Offered Include:
massage
,
facials and other skin treatments
,
waxing and hair removal services
and more!
Hope to see you soon!
OPEN 7 DAYS
1756 sw 8 st suit 207, 33135
google map
|
yahoo map
• Location: miami

• Post ID: 19848144 miami