Posted: Saturday, June 10, 2017 3:56 PM
---
Why DIRT Carpet? Replace with CERAMIC Tile: $1.25/SF Installed
How Much For: Remove Old Tile + Install New Tile + Grout?
Remove OLD Carpet + Install NEW Tile + Apply GROUT = $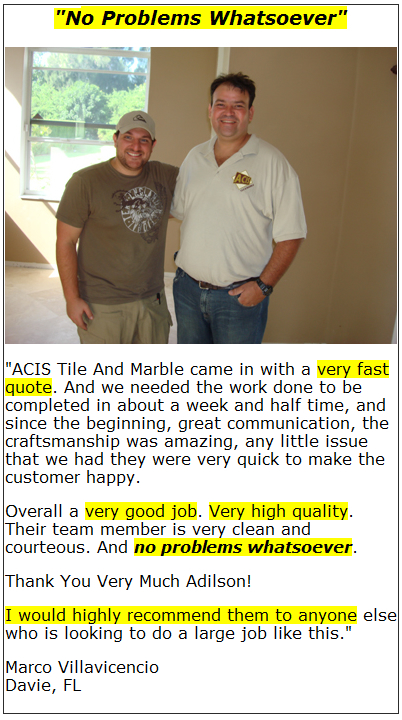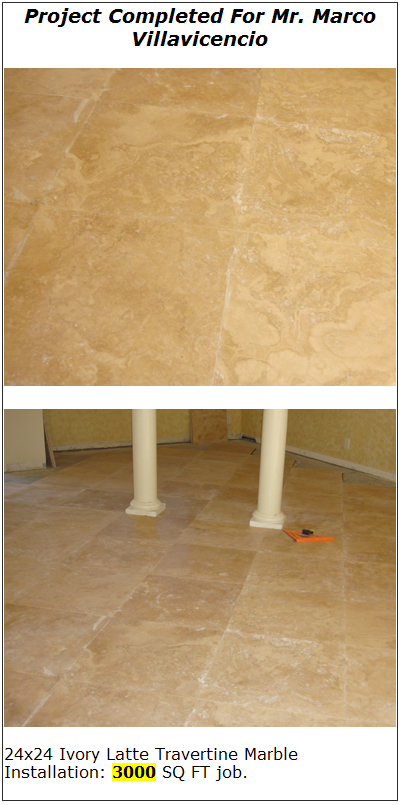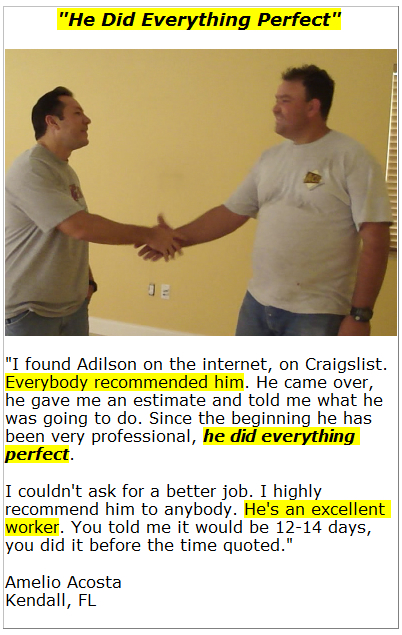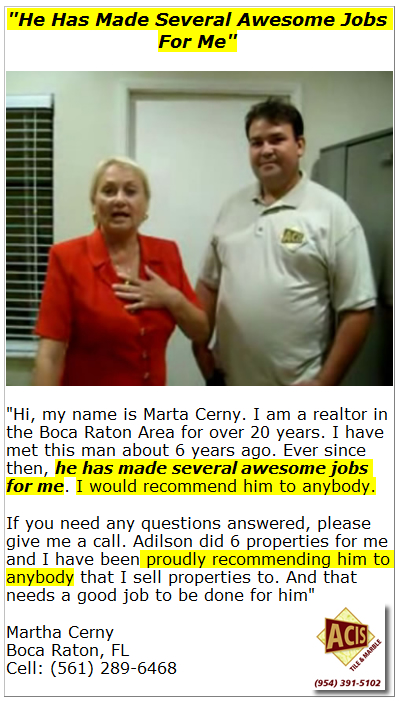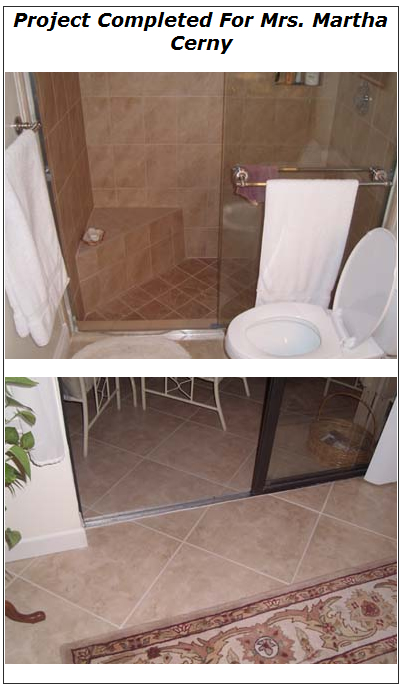 He did an excellent job
"I am Chuck Lawrence with Micrus Design Technology. Adilson did our front office areas.
He did an excellent job
. On time, at an reasonable price. "
Mr. Chuck Lawrence (Facilities Manager) of Micrus Endovascular.
We've completed his 3000 SQ FT job in less than 1 week.
What We Do
We set:
travertine
granite
vct
mosaic tile
glazed tile
slate
slab
flagstone
tumbled stone
glass tile in all sizes, shapes & designs.
We also float and waterproof all kind of surfaces such as floors, walls, ceilings, counter tops & backsplash.
ACIS Tile of Florida, Inc. is highly experienced in complete bathroom remodeling.
For 10 years we've doing nothing but working with ceramic tile related jobs. As part of our complete package we have a vast experience in installation of:
sheet rock
hardiebacker
durock (cement board)
glass block
shower pan
shower doors
Also baseboard & laminate flooring and travertine-Slate-Natural Stone. The list goes on and on: entryways, patios, store fronts, hallways or lobbies, fire places. You name it, we tile it. Custom residential and commercial designs.
Don't forget that our specialty is in complete Bathroom Remodeling. Showers, including shower pan installation, glass blocks and much more. Pick your dream bathroom from your favorite magazine and we will build it for you for a fraction of the cost with the precision a master.
ACIS Tile of Florida, Inc. Corp List of References

Name
Phone
Additional Information

Selma and Sam Elyachar

(954) 366-15**
(201) 563-47**
Porcelain. Coconut Creek, FL. Entire house remodeling plus patio. 1300 SQ FT)
braz**@comcast.net


Eduardo Fentanes

(754) 235-13**

Porcelain. Commercial Flooring, entire house (1800 SQ FT)


Guido Barisone

(954) 805-98**

Flavors of Italy terrace, front of restaurant and bathrooms (3000 SQ FT) - www.flavorsofitaly.us/

Chuck Lawrence
(305) 807-64**
c**@micruscorp.com (Facilities Manager)
3000 SQ FT of ceramic tile in Miramar (hallways, kitchens, entrances and more)
Glenn Moffetti
954-432-22**
1100 SQ FT of porcelain tile.

Kathleen L Gumbs (Kathy or Ken)
(954) 205-44**
K**@majestikgroup.com

Joseph Ritz

(561) 307-48**

Supervisor at www.CatalFumo.com

Andrew Kern
(954) 520-82**
and****@msn.com
12## N. Victoria Park Road Fort Lauderdale FL 33304 954-832-99##
Bernice Turturo
(954) 600-06**
****@aol.com 106## NW 48TH ST CORAL SPRINGS FL 33076-2124
954-575-74##
954-687-89##
Aileen Montanti
(305) 343-04**
2***@dadesschools.net (18"x18" marble installation on bathrooms)

Kenny Kenp

(954) 624-50**

Supervisor at Dolphin Carpet and Tile (Pembroke Pines)

Nereida Vasquez
(954) 317-73**
12## SW 75 Ave N. Lauderdale FL 33068

Francisco

(954) 415-22**

(Ceramic Porcelain - Bathroom, kitchen, living room, dining room, hallway, bedroom)


An Mollin

(305) 281-06**

Living room, kitchen, patio

Jonathan

(813) 992-15**

Entire house (bathroom, living room kitchen, bedrooms)

Silmo Moura

(954) 263-66**

Bathroom remodeling

Ednilson

(954) 914-87**

(Ceramic Porcelain - Bathroom, kitchen, living room, dining room, hallway, bedroom). EBC CONSTRUCTION Phones: (772) 466-9015
Cellular: (954) 914-87** Fort Pierce FL

Mike

(561) 376-54**

(4 bathrooms -- 4"x4" ceramic)

Osvaldo

(813) 325-56**

(Bathroom -- 6"x6" ceramic)

Ron

(954) 661-27**
Ron -- N72**@comcast.net (very intricate marble installation)

Marco Villavicencio

C: 954-600-65**

H: 954-424-11**

marco**@hotmail.com More Than 3000 SQ FT of marble.

Carl Bradley
(954) 260-84**
(954) 434-03**
cbra**@bellsouth.net
1 Master bathroom (marble installation).

Joseph Taviano

(561) 417-06**

Patio

Jimme Simegam

(9540 592-16**

Porcelain. Commercial Flooring, entire house (2000 SQ FT)

Mrs. J. Hineline

Hollywood, Florida jehe###@bellsouth.net (porch, 450 SQ FT)

Mrs. Martha Cerny
C: (561) 289-6468
F: (561) 394-3464
We've installed hundreds and hundreds of SQ FT of ceramic tile for Mrs. Martha.

We will be glad to email you our list of references above with all the info once we provide you with a free estimate.
Choose Wisely your Tile Installer
If you are reading this message chances are you are looking to choose your next ceramic tile installer/setter. The options are endless. Infinite number of tile installers on the internet. We know it's hard for you to choose one installer amongst so many.
Let me present the reasons why Acis Tile Of Florida should be the company that will earn your choice. I've made a promise to myself, to let my loyal clients to speak freely about Acis Tile Of Florida. Please take a minute to learn more about what they are saying:
They're
trustworthy
"Hi, my name Enry. I am here to really vouch for ACIS Tile of Florida, Inc..

They did a wonderful job

.

They're dependable. They are reliable. And I recommend to anyone. I am so happy

. Thank You!"
"I had the pleasure of doing a contract with ACIS Tile of Florida, Inc.. I must tell you that they did a

fantastic job

. They're

trustworthy

. Their workmanship is

impeccable

. They're neat. And I would

recommend them to anybody

. Thank You!"
You did a
wonderful job

. It was

clean

,

professional
"You did a wonderful job. It was clean, professional and fast. The price was very good. The time, you came on time to get the job done."

Ken Gumbs
Davie, FL
954-205-44** (after the free estimate we will let you know Mr. Gumbs complete phone number)
September 2008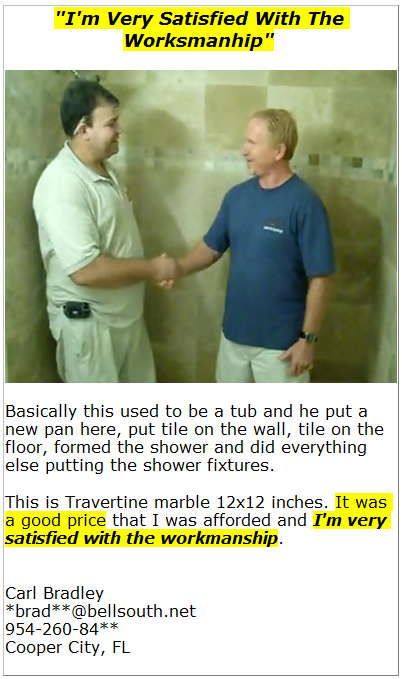 Details to pay attention to:
listello 2x2, the seat, diagonal 4x4 tumbled marble on the floor
Testimonial Transcription - Carl Bradley

Antonio:
- We are here at the residence of Mr. Carl Bradley, in Cooper City, Also With Mr. Adilson. We came here around 6 months ago. Adilson did this bathroom. Let me show here the floor...everything is beautiful.
- Mr. Bradley do you want to talk about the details of what was done?

Mr. Bradley:
- Basically this used to be a tub and he put a new pan here, put tile on the wall, tile on the floor, form the shower and did everything else putting the shower fixtures.

Antonio:
- This is a beautiful, beautiful work. What type of material is this?

Mr. Bradley:
- This is Travertine marble in 12 by 12 inches.

Adilson:
- On the shower floor is tumble stone 4 by 4 inches and also the seat.

Antonio:
- What about this detail here?

Adilson:
- This is listello 2 by 2 inches.

Antonio:
- Your Bathroom is very beautiful Mr. Carl.
- Do you recommend Adilson to other customers looking to have a bathroom?

Mr. Bradley:
- yes, yeas I do. It was a good price that I was afforded and I'm very satisfied with the workmanship.

Antonio:
- Wow! So 6 months later you still like very much.

Mr. Bradley:
- yes, Very Much!

Adilson:
- Alright thank you so much Mr. Carl.

Look how gorgeous is the floor.
Carl Bradley
*brad**@bellsouth.net
954-260-84**
Cooper City, FL
Marble Bathroom Remodeling
Completed October 28, 2008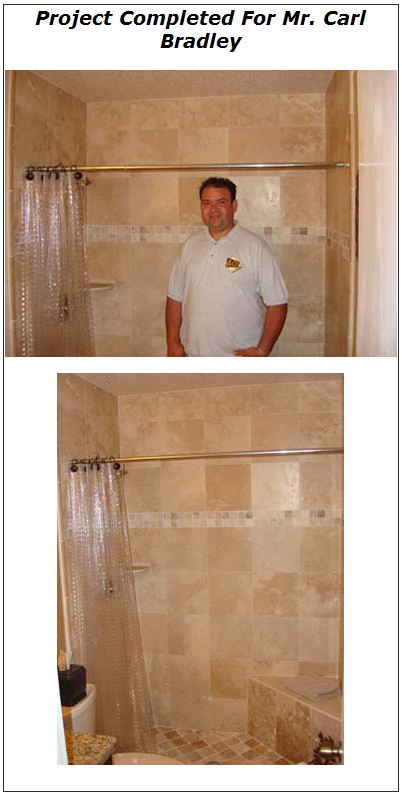 Toll-FREE: (800) 720-8061
Call me anytime for a free estimate:
Monday-Sunday
7:00 AM thru 9:00 PM

Adilson, Gesiel And Braga
(owners)
http://www.CeramicTileFlorida.com
(561) 756-4910 (mobile)
"The Most Recommended Tile Installer in South Florida"
• Location: Dade Brw Palm Beach, Miami

• Post ID: 27939663 miami