Posted: Saturday, June 10, 2017 3:55 PM
---
COMMERCIAL TILE INSTALLATION
Bathroom Remodeling 24; Tile Flooring Specialist 24; Ceramic Tile Install.
Broward County Palm Beach County Miami Dade County Complete Bathroom Remodeling Services
Ceramic Tile Setting: $1.25/SQ FT
Top Recommended Bathroom Remodeling Licensed Contractor South Florida
What We Do
We set:
mosaic tile

glazed tile

slate

slab

flagstone

tumbled stone

glass tile in all sizes, shapes & designs.
We also float and waterproof all kind of surfaces such as floors, walls, ceilings, counter tops & backsplash.
ACIS Tile Of Florida, Inc. is highly experienced in complete bathroom remodeling.
For 10 years we've doing nothing but working with ceramic tile related jobs. As part of our complete package we have a vast experience in installation of:
sheet rock

hardiebacker

durock (cement board)

glass block

shower pan

shower doors
Also baseboard & laminate flooring and travertine-Slate-Natural Stone. The list goes on and on: entryways, patios, store fronts, hallways or lobbies, fire places. You name it, we tile it. Custom residential and commercial designs.
Don't forget that our specialty is in complete Bathroom Remodeling. Showers, including shower pan installation, glass blocks and much more. Pick your dream bathroom from your favorite magazine and we will build it for you for a fraction of the cost with the precision a master.
very professional and very reliable
"Hi!

My name is Eduardo Fentanes, I am the owner of Cornerstone Gelato Ice Cream located over the Deerfield Mall 3980 W. Hillsboro Blvd. Deerfield Beach.
I know Adilson Andrade for a few years already. And I recommend his services. He's
very professional and very reliable
.
He has provided some services for me in my store and also in my house. He's very good at what he does. He's very reliable. And I wish him the best and be successful. Good luck Adilson and
I recommend your services
."


To see the work that we've completed, please visit:
Cornerstone Gelato Ice Cream
3980 W. Hillsboro Blvd.
Deerfield Beach, FL 33442
Store #: (954) 428-3999
Mobile: (754)235-1367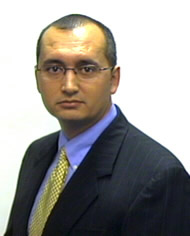 EDUARDO FENTANES FERNANDES
Cornestone Gelato Ice Cream
Commercial Ceramic Tile Installation for high traffic

Toll-FREE: (800) 720-8061
Call me anytime for a free estimate:
Monday-Sunday
7:00 AM thru 9 PM

Adilson Andrade (owner)
http://www.CeramicTileFlorida.com
(561) 756-4910 (mobile)
"The Most Recommended Tile Installer in South Florida"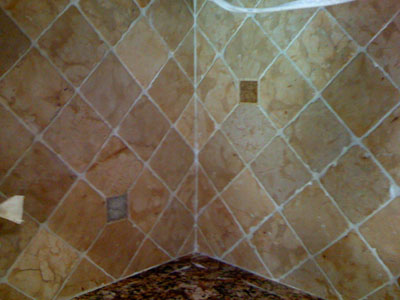 Beautiful backsplash tumbled stone (4"x4" diagonally installed. Notice the perfection on the installation. The line continuation from left to right and right to left is obeyed rigorously)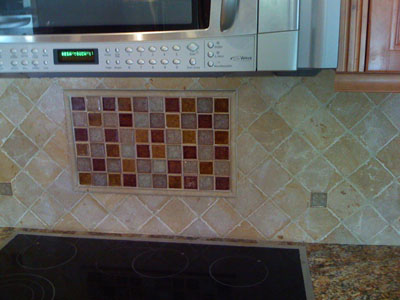 This is a closer view of the work. Notice the charming installation. This cannot be done by an ordinary ceramic tile installer. It can only be done by someone with years of experience.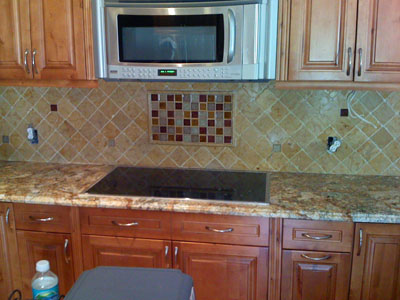 Beautiful backsplash tumbled stone with a glass tile design (1"x1"). Note that the glass design is perfectly centered with the stove and the microwave. The inserts on the right and on the left serve as parameters to enforce symmetry.

Here's another example of a breath-taking backsplash work. Notice the 4x4 black inserts. Gorgeous, aren't they? It gives a distinct look to the backsplash. When remodeling your kitchen, please remember to call us for a free estimate.
Phone: (800) 720-8061

Call me anytime for a free estimate:
Monday-Sunday
7:00 AM thru 9 PM
http://www.CeramicTileFlorida.com
Direct Number (mobile): (561) 756-4910
Choose Wisely your Tile Installer
If you are reading this message chances are you are looking to choose your next ceramic tile installer/setter. The options are endless. Infinite number of tile installers on the internet. We know it's hard for you to choose one installer amongst so many.
Let me present the reasons why ACIS Tile Of Florida, Inc. should be the company that will earn your choice. I've made a promise to myself, to let my loyal clients to speak freely about ACIS Tile Of Florida, Inc. Please take a minute to learn more about what they are saying:
His work is impeccable
"This is Guido, I am the owner of Flavors of Italy here in Coral Springs Florida. The address is 3111 N. University Drive.
Adilson here did 4 jobs for me.
Great and wonderful
. He did the bar. He did my terrace where people now can dance. The front of the house and the bathrooms. If you want to come and see his work, you're welcome.
And I would highly recommend him. His work is impeccable. He's on time
. He's one of the
best guys in the business that I recommend
."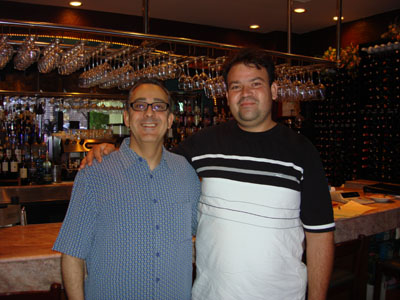 Chef Guido Barisone
http://www.flavorsofitaly.us
(954) 345-7770
3111 N. University Drive - Coral Springs, FL - 330
awesome jobs
"Hi, my name is Marta Cerny. I am a realtor in the Boca Raton Area for over 20 years. I have met this man about 6 years ago. Ever since then, he has made several awesome jobs for me. I would recommend him to anybody. If you need any questions answered, please give me a call.
Adilson did 6 properties for me and I have been proudly recommending him to anybody that I sell properties to. And that needs a good job to be done for him"


Mrs. Marta Cerny - Real Estate Professional
Cell: (561) 289-6468
Fax: (561) 394-3464

We've installed hundreds and hundreds of SQ FT of ceramic tile for Mrs. Martha along 6 years of trust.
A work of art and a pleasure to see...

"That's how we feel when we come home and step on Mr. Adilson R. Andrade's work. He did the floor of our newly bought Florida home, transforming it from dull carpeting into a
bright tile and wood welcoming
.

Mr. Andrade
went beyond the call of duty
helping my wife and I choose the right kind of tiles and wood flooring, going to several stores until we had the correct amount of the right color for the existing surface, he removed carpets, broke old tiles, dragged kitchen machines to retile under them and much more.

His work is
professional and reliable
and he did it totally unsupervised because we were still living in New Jersey at the time and it was a pleasure to walk into our new home and find this warm
welcome floor
.

We
strongly recommend Mr. Andrade's work to anyone who is demanding of artistry and competence
."

Selma and Sam Elyachar
Coconut Creek Florida
(954) 366-15**
(201) 563-47**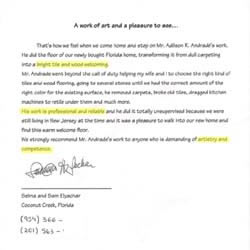 Click on the original picture to enlarge
Very prompt service

. And they did a

really good job
"I was very pleased with the work. Really nice edges.

Very prompt service

. And they did a

really good job

. We will be laying 24 inch rectified porcelain in the rest of the house in about a couple of weeks and we will bring them back to do the job.
The

price was very competitive

. Price is always a factor. They did a

really good work at a very good price

."

Mr. and Mrs. Montanti
305-343-04##
##### SW 68th Ct
Southwest Ranches, FL 33331
(After a free estimate visit we are allowed to provide their contact reference. They loved the bathroom remodeling that was completed).
Bathroom Remodeling Bay Harbor Islands
Bathroom Remodeling Boca Raton
Bathroom Remodeling Boynton Beach
Bathroom Remodeling Clewiston
Bathroom Remodeling Coconut Creek
Bathroom Remodeling Coral Gables
Bathroom Remodeling Coral Springs
Bathroom Remodeling Dania Beach
Bathroom Remodeling Davie
Bathroom Remodeling Deerfield Beach
Bathroom Remodeling Delray Beach
Bathroom Remodeling Fort Lauderdale
Bathroom Remodeling Fort Myers
Bathroom Remodeling Fort Myers Beach
Bathroom Remodeling Fort Pierce
Bathroom Remodeling Hallandale Beach
Bathroom Remodeling Hialeah
Bathroom Remodeling Hialeah Gardens
Bathroom Remodeling Highland Beach
Bathroom Remodeling Hollywood
Bathroom Remodeling Homestead
Bathroom Remodeling Hypoluxo
Bathroom Remodeling Jupiter
Bathroom Remodeling Key Biscayne
Bathroom Remodeling Key West
Bathroom Remodeling Lake Worth
Bathroom Remodeling Lantana
Bathroom Remodeling Lauderdale By The Sea
Bathroom Remodeling Lauderhill
Bathroom Remodeling Lighthouse Point
Bathroom Remodeling Margate
Bathroom Remodeling Miami
Bathroom Remodeling Miami Beach
Bathroom Remodeling Miramar
Bathroom Remodeling Naples
Bathroom Remodeling North Miami
Bathroom Remodeling North Miami Beach
Bathroom Remodeling Oakland Park
Bathroom Remodeling Okeechobee
Bathroom Remodeling Palm Beach
Bathroom Remodeling Palm Beach Gardens
Bathroom Remodeling Pembroke Pines
Bathroom Remodeling Pinecrest
Bathroom Remodeling Plantation
Bathroom Remodeling Pompano Beach
Bathroom Remodeling Tamarac
Bathroom Remodeling Vero Beach
Bathroom Remodeling Wellington
Bathroom Remodeling West Melbourne
Bathroom Remodeling West Palm Beach
Bathroom Remodeling Weston
Bathroom Remodeling Wilton Manors

He did an excellent job
"I am Chuck Lawrence with Micrus Design Technology. Adilson did our front office areas.
He did an excellent job
. On time, at an reasonable price. "
Mr. Chuck Lawrence (Facilities Manager) of Micrus Endovascular.
We've completed his 3000 SQ FT job in less than 1 week.
Toll-FREE: (800) 720-8061
Call me anytime for a free estimate:
Monday-Sunday
7:00 AM thru 9:00 PM

Adilson, Gesiel And Braga
(owners)
http://www.CeramicTileFlorida.com
(561) 756-4910 (mobile)
"The Most Recommended Tile Installer in South Florida"
• Location: Miami, South Florida Region

• Post ID: 25400984 miami